Cleanroom Isolation Gowns
Products & Secure Online Ordering
Contact PLX Industries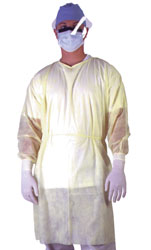 Advantage I is the preferred material for non-hazardous work environments where a cost effective disposable garment is needed. Durable and low lint, this versatile fabric is converted into coveralls, lab coats, and isolation gowns. Light-weight and breathable, Advantage I is made of 100% non-woven material. Advantage I offers cool, comfortable protection. The material will not flare, but will melt if exposed to direct heat or flame. Mildew resistant, non-allergenic, and disposable. Meets ANSI 101-1996.
Advantage Plus offers protection in general purpose industrial applications. Lightweight yet durable, Advantage Plus is created by adding a special coating to a non-woven material. This unique fabric is available in the form of aprons, coveralls, lab coats, and sleeves. The coating reduces particle release and protects from water based liquids and certain chemicals. Meets ANSI 101-1996.
Advantage Pro is a three-layer fabric that is ideal for many situations where dry particulate barrier and liquid repellency are needed. Worker comfort is greatly increased because Advantage Pro is lightweight, soft and breathable. It offers improved strength, splash and particulate resistance against many workplace hazards. Advantage Pro provides an excellent barrier against water based liquids and is resistant to light chemical splash. Advantage Pro is also treated with an anti-static agent. When a durable, comfortable garment is needed, Advantage Pro is the ideal choice. Meets ANSI 101-1996 and Federal Flammability ACT 16 CFR 1610.
Products & Secure Online Ordering
Contact PLX Industries
Cleanroom Isolation Gowns Data Sheets [PDF]

Products & Secure Online Ordering
Contact PLX Industries