Cleanroom Supplies
Maintaining a clean dust free environment is easy with cleanroom supplies. Cleanroom products are affordable for any business that needs to control the spread of dust or maintain a contaminate free area. Our cleanroom supplies are made with light weight materials and come in a variety of clothing options. Aside from cleanroom clothing we also carry sticky mats to reduce foot traffic dirt. What ever your need is we have the disposable clothing for you. Our cleanroom supplies are the ideal first line of defense against unwanted dirt and contamination.
Products & Secure Online Ordering
Contact PLX Industries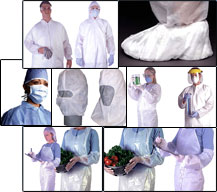 Contamination Control
Reducing the spread of dust or particulates and keeping contamination under control is easy to do with cleanroom supplies. Cleanroom items like coveralls, shoe covers, sticky mats and more will save you time and money on keeping rooms clean and clean up after a jobs completion. All cleanroom supplies are disposable which puts any trapped dust, dirt, or particulates where they belong; in the trash. With our wide range of cleanroom supplies, you will be able to find a solution to your contamination control needs.
Cost Effective and Easy to Order!
Cleanroom supplies are affordable for any business with the low price per item. Would you spend a dollar per item to save 10? Who wouldn't? So order your disposable cleanroom clothing today!
Cleanroom Supplies
Our cleanroom products can be used in a variety of applications such as food processing, manufacturing, renovation, construction, cleanrooms, and more. That is due to the low-linting materials used to provide a dry barrier, some even provide a wet barrier too. The cleanroom supplies that we provide can keep workers safe on the job and help businesses comply with industry regulations.
Products & Secure Online Ordering
Contact PLX Industries
DUE TO OVERWHEMING COVID-19 DEMAND, SOME ITEMS MAY BECOME UNAVAILABLE. Call or email with inventory questions